Have you ever tried searching through Facebook's FAQs to see if they have a policy on using affiliate links on Pages, in adverts and in groups?  If so, I'm guessing you couldn't find much information and it's left you even more confused?  Yeah, I've been there.  So, I did a little research about using affiliate links on Facebook and thought I'd present my findings here, to help you lovely bloggers!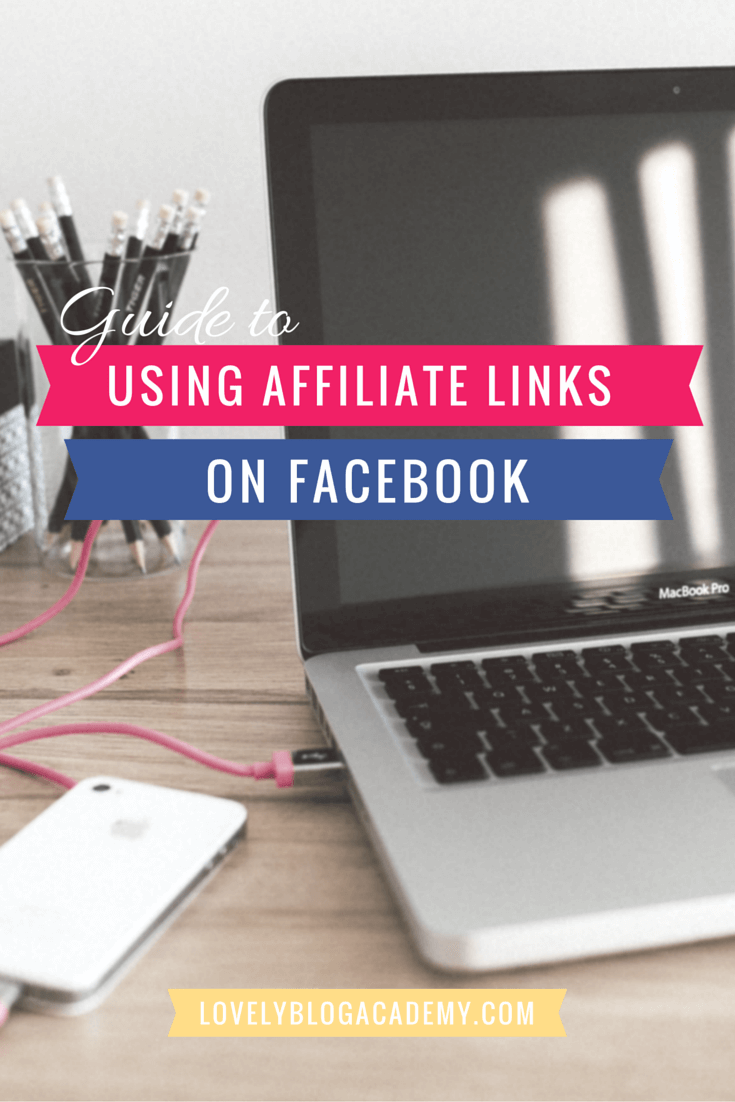 Can I use affiliate links on Facebook?
The short answer is yes (but read through the following information to make sure you're fully briefed).
I checked Facebook's help centre and looked for questions such as, "are you allowed to do affiliate marketing on Facebook?" and "what are the rules and guidelines for posting affiliate marketing ads on my page?".  Here are the responses from the Facebook Help Team that illustrate Facebook DO allow people to publish affiliate links on their Pages:
The first message is from a person with a fan Page themed around dogs.  The user wants to post affiliate links to their Facebook Page: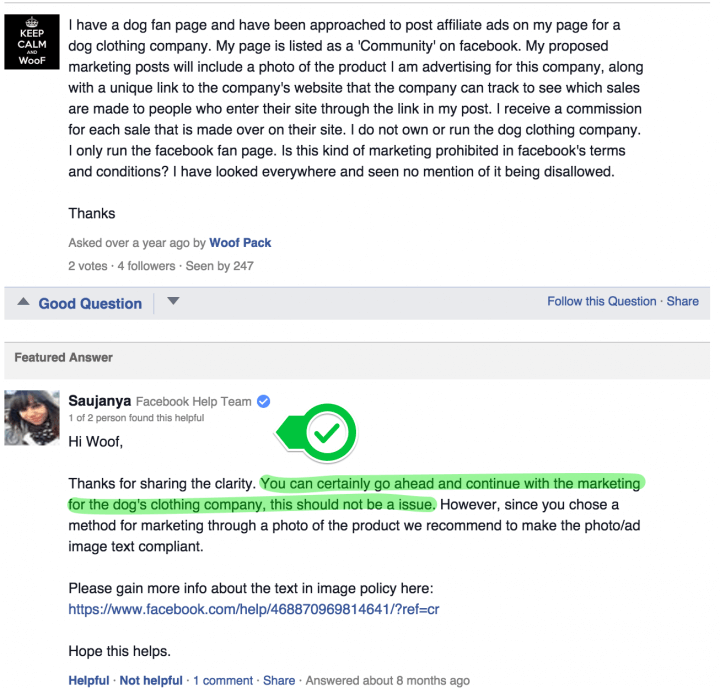 The Facebook Help Team member replies with, "you can certainly go ahead … this should not be an issue."
In a second post, I see a user asking about posting affiliate links on Facebook Pages AND in groups.  Another person asks the same question in the thread too –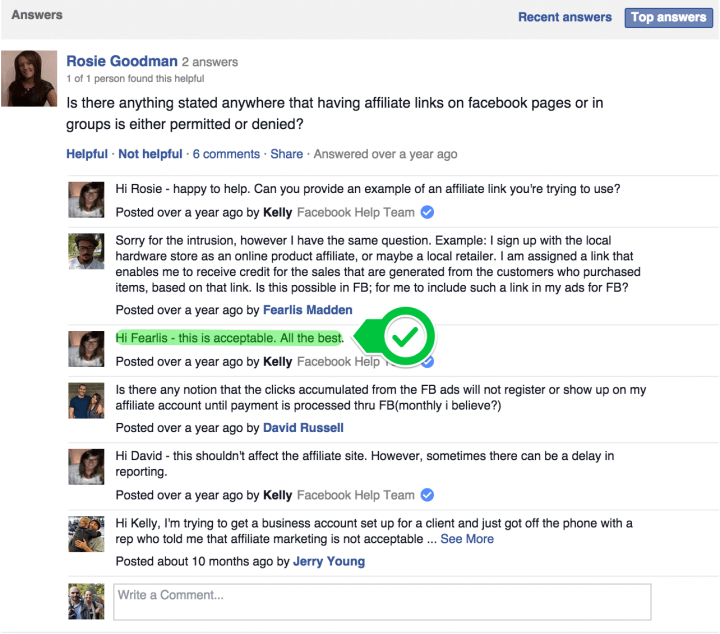 The second poster "Fearlis" explains affiliate marketing, to which the Facebook Help Team member replies, "this is acceptable".
Both examples above illustrate that affiliate marketing is permitted on Facebook Pages and in groups.
How does Facebook's new Branded Content Policy affect affiliate links?
I wrote the information on this page BEFORE Facebook published their new Branded Content policy in May 2016. The blogging community is still a little confused about how the new policy affects us. However, Amy Lynn Andrews published a chat transcript from a conversation she had with a Facebook rep (see halfway down the page) who confirms that posting affiliate links on your Page does NOT break their new policy, as long as you properly disclose the relationship and tag the company you're featuring.  See a snippet of the chat transcript below via AmyLynnAndrews.com  –

I've also checked Facebook's Advertiser Help Centre and found an answer from a company rep posted a month or two AFTER the Branded Content update (in June 2016), confirming that it's OK to share links if you adhere to Facebook's Community Standards and Page Guidelines. Though, nothing is mentioned about the Branded Content Policy specifically.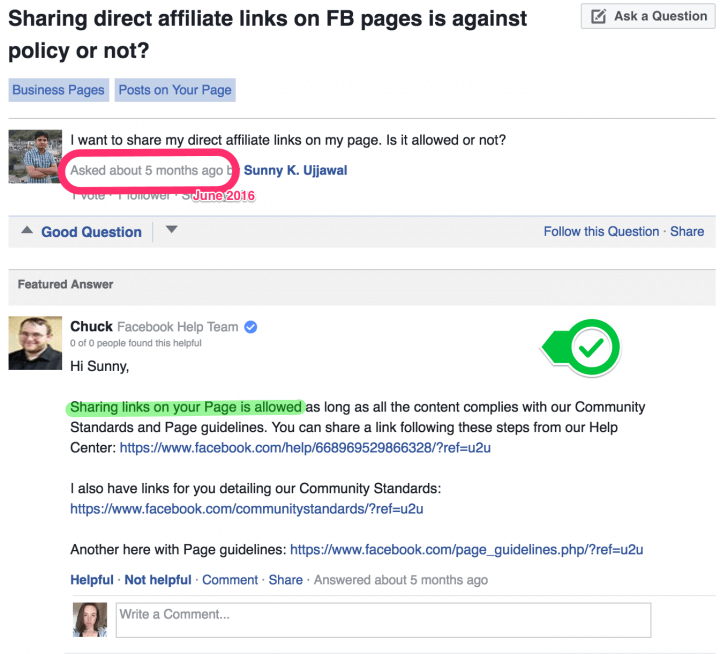 Can I use affiliate links in Facebook adverts?
As you may be aware, Facebook has a number of strict rules and regulations in place for their advertising network.  Again, the guidelines do not mention affiliate links specifically, so you may be unsure whether or not they're permitted in advertising campaigns.  The simple answer is yes, they are allowed. 
In the help centre, a Facebook representative says we ARE permitted to use affiliate links in Facebook adverts: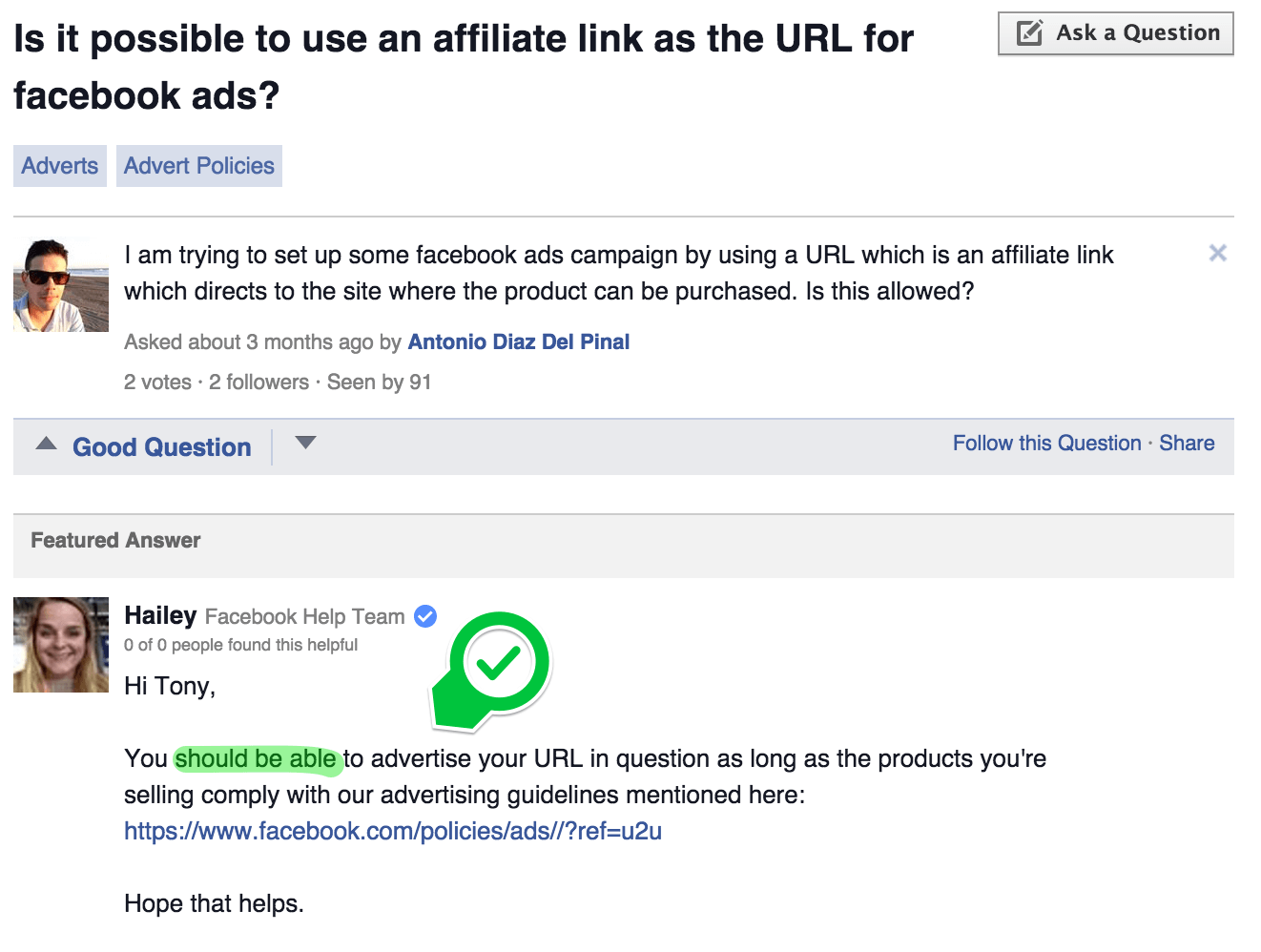 Note – the products in question MUST comply with Facebook's advertising guidelines, otherwise your advert may not be approved and in the worst case scenario, your advertising account may be permanently banned.
If you're planning to advertise on Facebook, check out Amy Porterfield's wonderful podcast and blog post full of tips on "protecting" your Facebook ad account.  I highly recommend you read/listen.  Here's an excerpt –
[…] it's important to understand the foundational principle of Facebook's guidelines. For them, it all comes down to creating a great user experience. In other words, Facebook wants to protect all Facebook users from feeling lied to, "sold to," bullied, harassed…you get the picture.

[…] they're not letting people make bold, specific promises to our audience about concrete things (like saving money, making money, losing weight, etc.). And they're not letting us use highly specific imagery that suggests these things (like images of idealized body types, huge stacks of cash, etc.).
Sharing Amazon affiliate links on Facebook:
If you're a member of Amazon Associates (the Amazon affiliate network) you may be wondering if you're allowed to share links on Facebook.  The answer is YES:
"Yes – the Associates Program does pay referral fees for qualifying sales generated from social networking sites like Twitter."  (Source: Amazon)
Amazon is simply using Twitter as an example in their FAQ page.  However, they state they do pay commissions on sales generated from "social networking sites", so this includes Facebook too. Furthermore, Amazon explicitly states that they accept applications to the program from "Facebook Fan Pages" further down the page.   Check out the Amazon Associates Social Networking FAQ for more details.
In fact, if you're logged into your Associates account and browse Amazon, you'll see the SiteStripe tool (pictured below).  You can use this to share affiliate links directly to Facebook: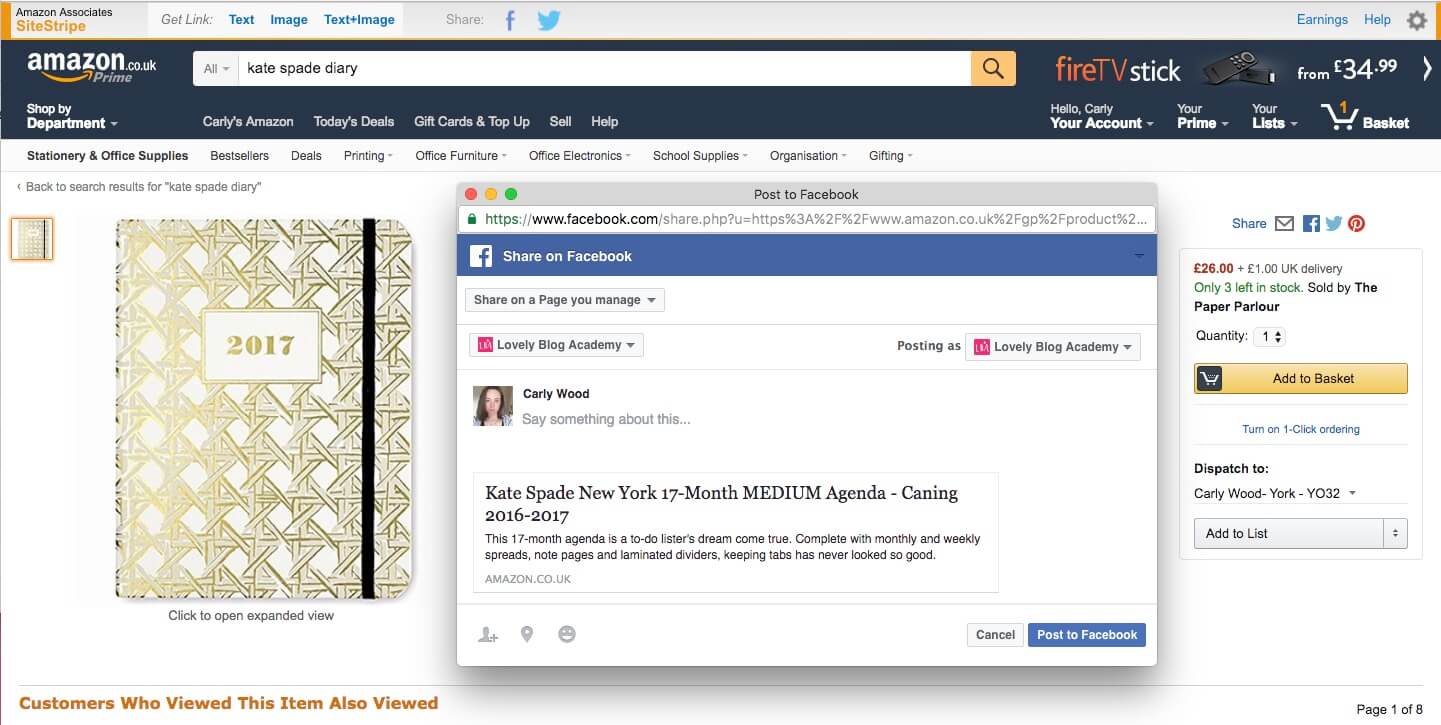 If you search Facebook's help centre, you'll see they've answered quite a few questions on the topic of Amazon affiliate links. Several different members of the Help Team confirm that Page owners can post affiliate links. See here for more details.
Pssst... Do you know you're allowed to post #affiliate links on Facebook?
Click To Tweet
Easy way to post affiliate links to Facebook: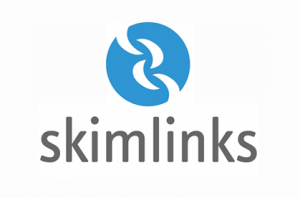 Note: In the following paragraphs, I'm using referral links in my content.  That means if you sign up to the service I'm promoting (which I genuinely recommend after using it every single day for the last 2 years) I might earn a fee.  Although it won't be a huge amount, it does mean I can spend more time writing great content.  For my full disclosure, click here.
If you run an active Facebook Page and want to post affiliate links to it regularly, consider signing up for SkimLinks.  It is my monetization tool of choice and I use it every day.
Why?
Their browser addon has a Facebook sharing tool, which makes posting easy
Once signed up, you're approved with 20,000+ merchants
That means no applying for individual merchants and waiting to be approved (like with affiliate networks)
Commissions can be MUCH higher! They have so many publishers signed up that they can negotiate good rates for us!
Your statistics are all in one place – with great insights and analytics
In the screen capture below, I'm sharing an item from Selfridges.com to Facebook using the SkimLinks browser tool.  When you click on the Facebook icon, the "share" window pops up.  You can choose which Page to post on and add a message.  (Note: The preview below doesn't show the product image with the link, HOWEVER, when I posted it, the image was there too).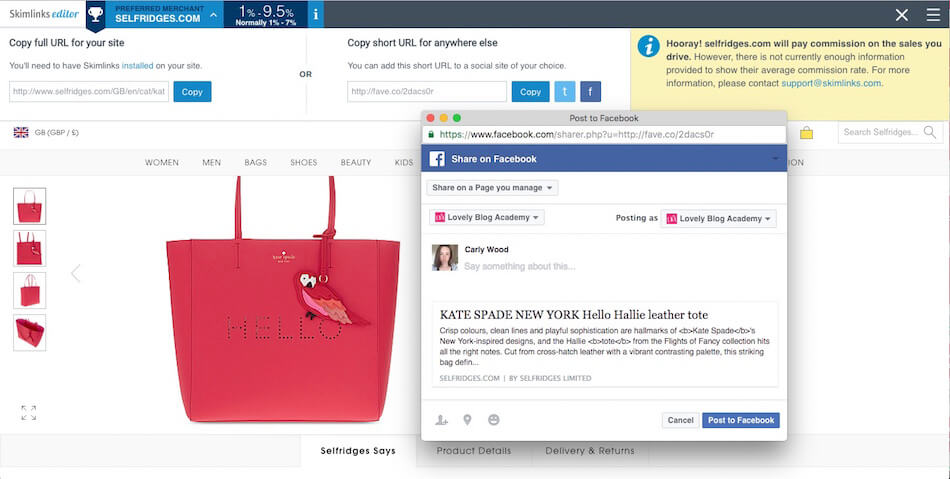 Further reading & resources:
Disclaimer:
Please note:  the information given here is advice based on research, I do not speak on behalf of Facebook and I certainly don't guarantee that if you post affiliate links, your Page/ads account will not be banned or flagged as spam.  I can say that I have personally used affiliate links on a number of Facebook Pages and in adverts without a problem to date.
Also:  In the comments below, Madhu rightly points out that some merchants do not allow publishers to post links to social media accounts.  Very true (although rare in my experience.)  You should always check the merchant's T&Cs in the affiliate network or email your account manager to double check if you're unsure.