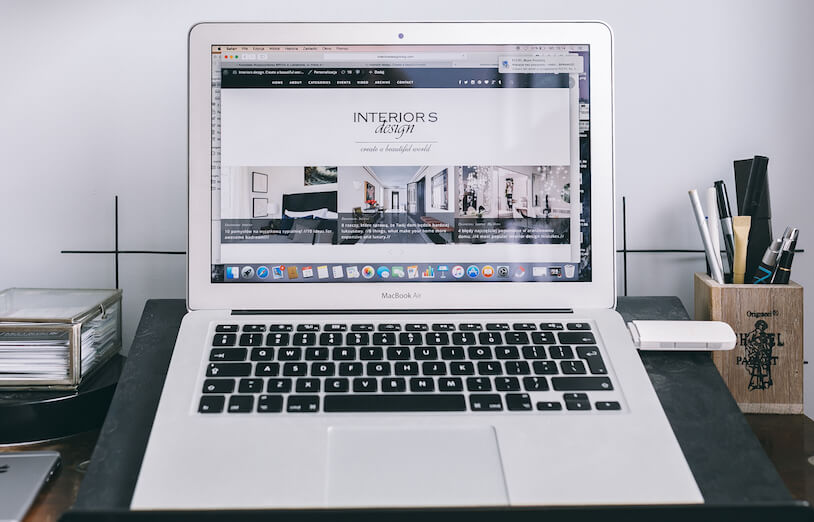 Bloggers, do you want to improve your affiliate marketing efforts and increase earnings?  Here are a couple strategies that'll help you to do that!   Below, I outline some of the methods I've used to monetize a wide range of blog posts over the last few years.  These strategies will help you to squeeze extra affiliate links into blog posts.  BUT, this is NOT about spamming readers or trying to cheat the system to generate more commission.
In general terms, the plan is to think 'outside the box' and add MORE useful content into your blog posts.  You give readers extra information, they find what they're looking for and you earn additional commissions for being helpful.  It's win-win.  The specific strategies vary depending on the type of post you're writing.  As such, I've split them into different sections based on popular blog topics.   Also, don't miss the 'all topics' section at the bottom of the page.
TRAVEL POSTS
1) Planning your next vacation? Sharing holiday snaps?  Why not include information about the location from LonelyPlanet.com?  Quote the company's expert opinions alongside your own commentary and add additional affiliate links in the process.  LonelyPlanet.com pay 15% commission on travel books purchased from their site within 30 days.  Perfect if somebody searches Google looking for information about a location, finds your helpful blog post and then clicks through to buy.  You can find Lonely Planet's affiliate programs on both Affiliate Window and SkimLinks.
2) Similarly, quote reviews from TripAdvisor.com too (handy for hotels, B&Bs etc).  They also have an affiliate program (find them on Affiliate Window and SkimLinks).  See below for more details:
LIFESTYLE / HOME / DIY / CRAFT POSTS
3) Do you take your own blog photographs? If so, this is a great opportunity to add more affiliate links into your content!  In the image caption, list the props in the photograph (or the outfit you're wearing) and link to the relevant retailers.
For example:
4) Following on from the tip above, if you've used or featured an item that's now unavailable to buy, mention this in your blog post.  Then, link to the retailer so your reader can go and discover what else they sell.
5) Also, if the item is sold out, you could provide links to similar products from other brands.  This saves your readers searching Google AND it might result in an affiliate commission for you.
FASHION & BEAUTY POSTS
6) I'm a frequent user of rewardStyle (it's a blog monetization tool for fashion bloggers that's invitation only). The company often sends tips out via email.  They regularly encourage bloggers to use a strategy they've termed 'the Triple Threat'.  If you're unfamiliar, this is what it involves:
Creating text links to individual products in your blog posts
Adding extra links to product categories and retailers' landing pages
Adding shoppable widgets to posts
Here's a quick example of the three different components of the Triple Threat (imagine this in the context of a blog post with additional text and images) –
7) Take inspiration from those 'spend or splurge' articles published in glossy magazines.  If your latest post features something expensive, consider providing alternatives at different price points for your readers.
Note:  Check out the 'all topics' section below too.  I have loads more tips that fashion and beauty bloggers can use, with examples.
FOOD & DRINK POSTS
8) Do you regularly share photographs of your meals?  If you whip up something from a cookbook, remember to tell your readers!  You can use an affiliate link for the cookbook.  That way, your readers can enjoy more recipes from the same chef and you get a kickback for the recommendation.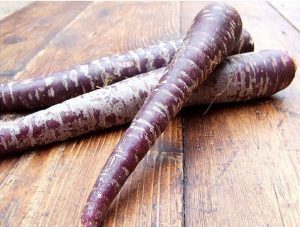 9) Cooking with an unusual ingredient, such as French Purple Carrots (pictured right)?  Create an affiliate link to the item on a supermarket's website.  This helps the reader see what the item looks like, see its price, and check availability.  It might also turn into a commission for you should the reader sign up for online delivery with the supermarket in question.  For example, Tesco pays a flat rate of £6 on orders from new customers with Affiliate Window.
POSTS ON ALL TOPICS
10) Can the item you're linking to be purchased from a number of retailers?  If so, create a thorough list for your readers.  Why?  Not all readers live in the same country as you!   Those who live in a different country are more likely to click through to a familiar store.
11) In the example above, I listed a number of popular stores from two different countries:  the USA and Great Britain.  This is because I live in the UK but my stats show a lot of readers come from America too.   You can check Google Analytics or Google Search Console to find out where your readers come from.  By offering links in both currencies, I'm improving my earning opportunity.  Plus, if a reader is from elsewhere, they're likely to be familiar with a huge brand like Net-A-Porter and know the company offers additional currencies/delivery options.
12) Speaking about delivery options… List those too!  It takes time, but readers will find it immensely useful.  You can compare delivery options from a few different companies and tell readers which store offers the best deal.  I'll also mention that stores that provide international delivery for my overseas audience.
This screenshot below is from my Webgains account.  I gave all of the different links on my page a click reference, which means they can be identified in reports.  As you can see below, the link in a paragraph detailing different international shipping options for my readers generated three commissions in six months.  OK, it didn't earn millions, but I'm not complaining!

13) Use Google Analytics and Google Search Console to determine which of your older posts STILL get traffic.  Double check all of the affiliate links on the page and make sure they work.  Replace dead links where possible, or provide alternatives if an item has sold out.  This little bit of housekeeping ensures your readers don't get annoyed by outdated, broken links.  It also increases the chance of you earning a commission.
14) Slowly work through the list of pages generated from the tip above and rework the page copy, adding more information, brushing up your on-page SEO and adding better quality pictures where applicable.  You want to create a better experience for your readers.  You'll be rewarded with more traffic from Google to your page (who seem to love this kind of activity), which means additional earning opportunities!  I personally do this on one of my blogs with great success.
15) Edit high performing blog posts, adding information about special offers from any brands mentioned.  For example, if you've written a post featuring Stuart Weitzman boots and the company runs a promotion, add a little aside informing your readers.
16) Here's another advanced tip for WordPress users.  Make use of the inbuilt taxonomies (tags, categories) for SEO purposes, optimising them to bring in more traffic.   Monetize the additional traffic with links and widgets.  I cannot recommend the YOAST SEO plugin enough for helping with this strategy.  This guide from Yoast on Taxonomy SEO will help you get started.  Here's an example, using the fashion blogging niche to illustrate my point: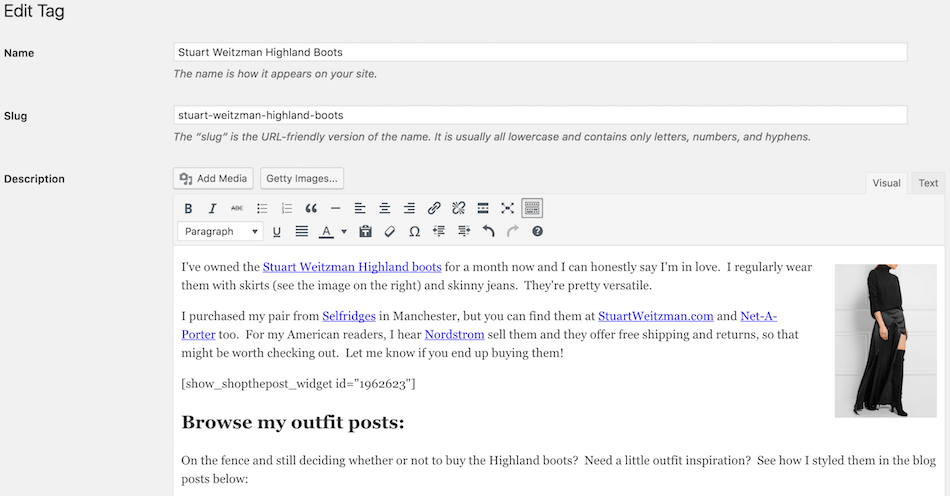 Tag blog posts with brands and style names, such as 'Stuart Weitzman Highland Boots.'  On the tag options page, fill out the description box, giving a little information about the boots including links to different retailers.  Add pictures with optimised names and write out keyword friendly alt tags.  Add a rewardStyle 'shop the post' widget featuring the boots for readers to shop.Note: Not all themes use the category or tag description box, but it's quite easy to add if you have a little theme tweaking experience.
Of course, blog readers will find good tagging (and categorizing) useful because be able to find and view all content related to the topic with ease.  For example, they can view all posts about the aforementioned boots in one place and see how you've styled various outfits with them.  Everybody is happy!
17) A quick and easy tip to finish with:  remember to add an affiliate link to your images too.  People regularly hover over images with their cursor and try to click them!
Over to you!
Do you have an affiliate linking tip to share with other readers of this blog?  If so, please add it to the comments section below.  Any questions?  Please ask me in my Facebook group. I take time to answer and help where I can.
If this blog post helped you, please consider saving it to Pinterest: