If you've just signed up with your first affiliate network, you've probably just noticed the unimpressive, long and ugly URLS?  It's likely you want to know if it's OK to shorten affiliate links, specifically for use on social media, like Twitter or Facebook?

Can I shorten affiliate links?  If so, how?
Yes, most* affiliate networks allow users to shorten their URLs.  *I would advise you email a representative at the network for confirmation first, if you cannot find any information in their help or FAQ section.
Affiliate Window, Webgains and ShareASale all have inbuilt link shorteners that you can use.
Commission Junction doesn't have a URL shortener just yet, but a representitive from the company told me that using one should not affect tracking.
If you use RewardStyle, there's an option to automatically shorten all your links with bit.ly  (visit My Account > Basic Information  to activate).
SkimLinks has a built in URL shortener too.  Access this in the toolbox menu (visit toolbox > tools > URL shortener )
Amazon confirm you can use any URL shortener of your choice, though they suggest using their amzn.to inbuilt shortener because they can verify it'll track your clicks and sales correctly. Read more in their FAQ section.
List of commonly used URL shortening services
You may wish to shorten your affiliate links with one of the following tools –
Goo.gl (owned by Google, good stats)
Bit.ly (see below for why I don't use Bit.ly)
Buffer *MY PICK (scheduling tool, automatically shortens, good stats)
WordPress users create your own shortened URLs with Pretty Links
Why I don't recommend Bit.ly
Bitly's URL shortener is a favourite with bloggers, due to the handy statistics it provides.  However, earlier this year, Bitly partnered up with Viglink and started appending affiliate cookies to links posted through the tool.  PracticalEcommerce.com explain why this could be problematic for bloggers –
Say a blogger, who is one of your approved affiliates, promotes your brand across her social media channels. To keep her posts short and pithy, the blogger uses Bitly to shorten the affiliate link. Now that Bitly is in partnership with Viglink, if the blogger's post drives a sale, that sale is attributed to Viglink, not to the blogger.
Eeek!  This was only a test on a small subset of users, and according to the site's knowledge base, the test is now over.  However, Bit.ly haven't stated whether the test was successful and they intend to activate affiliate links to ALL of their free users in the future.
Further reading:
Help other bloggers by sharing this post!
If you'd like to help other bloggers learn about shortening affiliate links for social media, pin the graphic below: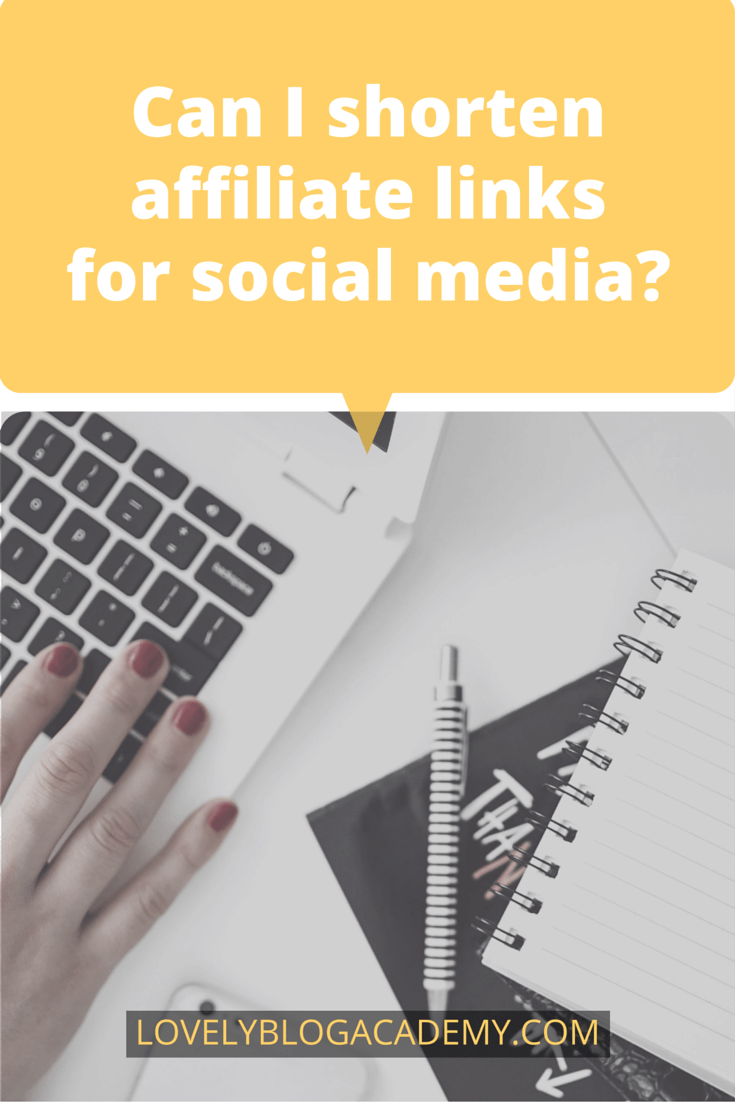 Or, tweet out the following:
Everything you ever need to know about shortening #affiliate links for social media
Click To Tweet