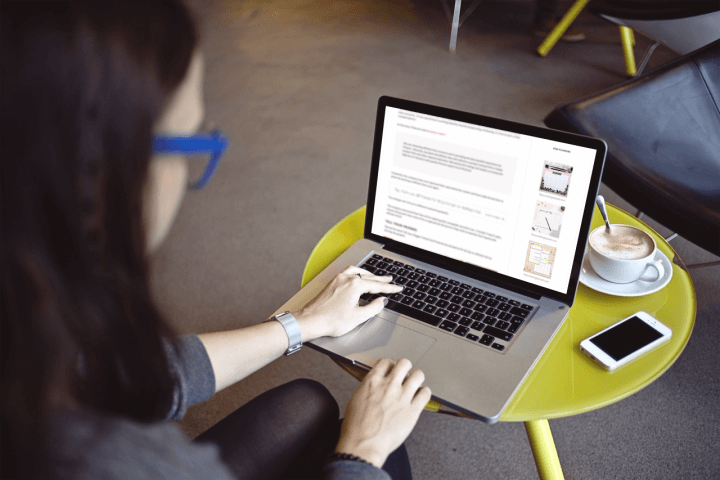 If you've just signed up to ShopStyle Collective, you're probably eager to start monetizing your blog! In this quick tutorial, I'm going to teach you how to get started.  By the end of this tutorial, you'll know how to add a ShopStyle widget to your WordPress sidebar.
NOTE:  This tutorial is for WORDPRESS.ORG users (the self-hosted version).  You cannot embed widgets into WordPress.com blogs.
Instructions:
First, we're going to choose which products to put in our widget.   Make sure you're logged in to ShopStyle Collective before we get started.
1) First, click the "create"  button on the left hand side, under the Collective logo.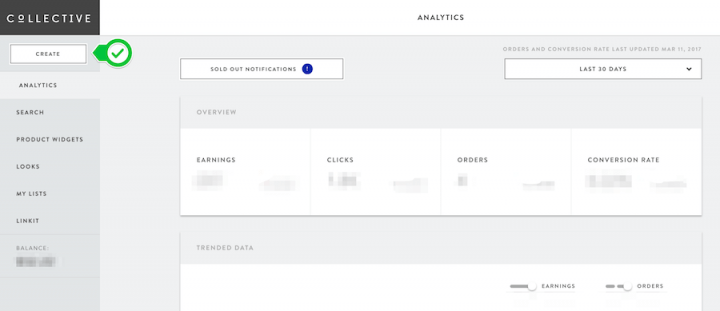 NOTE: A MESSAGE WITH THE TITLE "Introducing: Looks and Collections" might pop up. Dismiss this by clicking the   then "got it"  buttons (don't worry, you can always find the info on their blog at a later date).
2) Choose the product widget option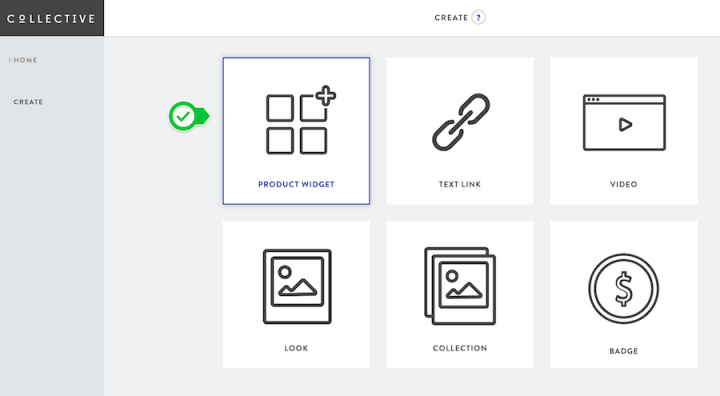 3) In the search box at the top, type in the name of the product you'd like to add to your widget.  For this example, I'm searching for desk planners.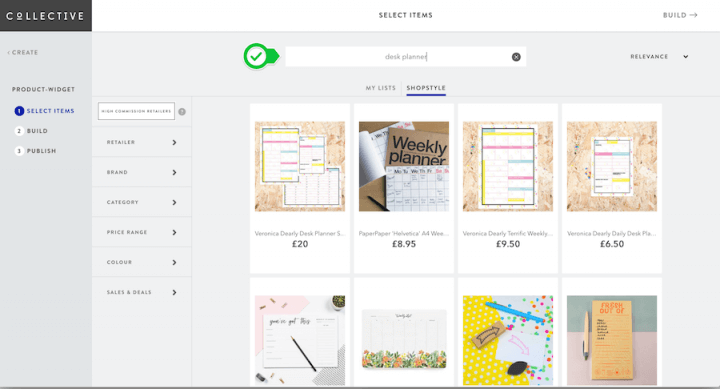 4) When you see something you'd like to save for the widget, hover over it and click the "add to widget"  button.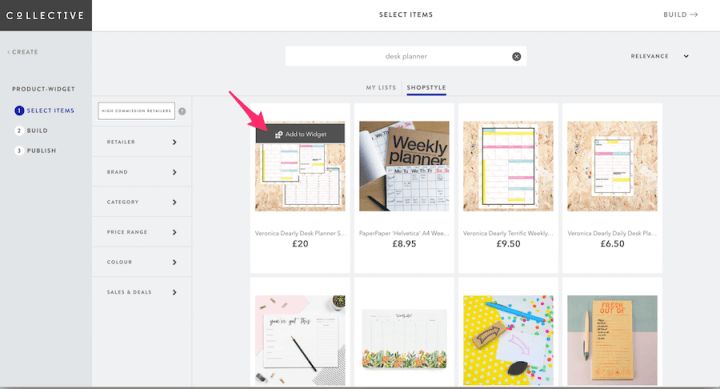 5) Add as many items as you like. When you're ready, click on the word "build"  (top right).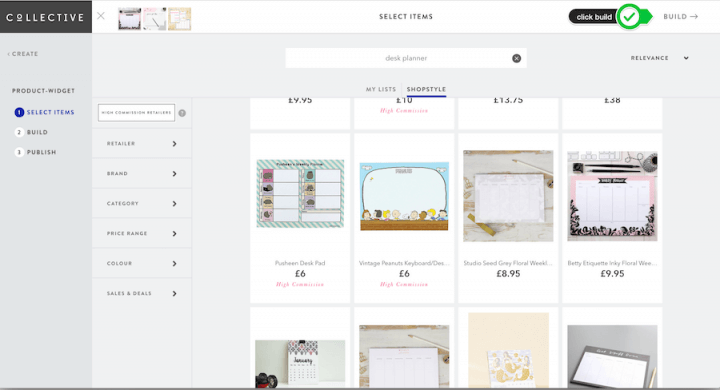 6) You'll be taken to the build-a-widget screen. On the left-hand side you'll see a range of display options, including whether or not you want to show the brand (e.g. Chanel), the retailer (e.g. ASOS), the price, the sale price (if the item is on sale) and then whether all of that information will be shown all the time, or when somebody hovers over with their mouse. Choose to display whatever you feel works best. There's no right or wrong answer and you can always come back and edit this in the future.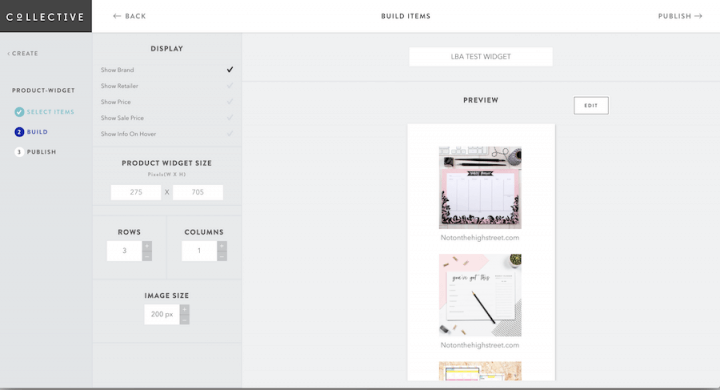 7) Next, choose a width for your widget. This will depend on the width of your sidebar. If you're unsure, try 250 for starters (you can go back and edit the widget after this tutorial if it's too big/small for the space).
Or, if you'd like to work out the width of your sidebar precisely, you can either look in your CSS file for the word 'sidebar', or use the developer tools in your browser (e.g. Chrome Inspector or Firefox Page Inspector). Just remember to account for padding!
You shouldn't need to touch the height option, that should just automatically adjust depending on how many rows you choose to show (see next step!)
8) Choose as many rows you'd like to display.   Set columns to "1".
9)  Leave the image size box. This automagically changes itself based on the widget's width/height.
10) If you want to change the order of your items in the widget, click the "edit"  button (as shown below).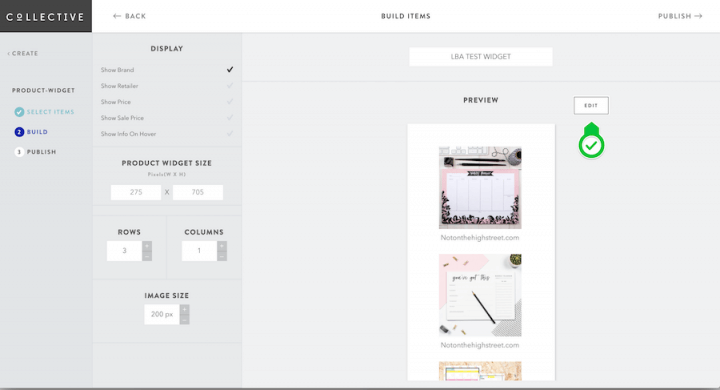 11) When you're happy, click "publish"  (top right, at the top of the screen)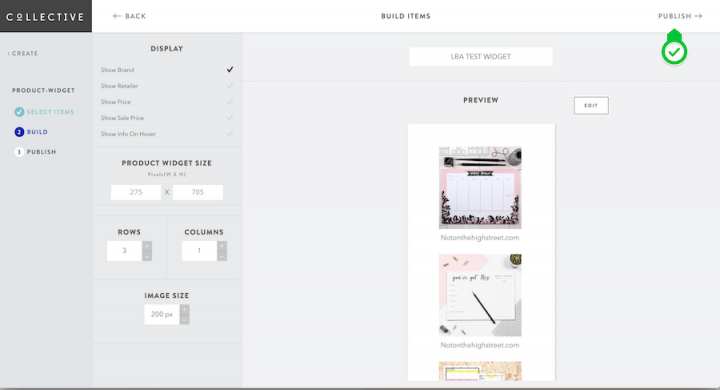 12) Next, you'll be taken to a screen with your widget code. Highlight this code and click the "copy embed code"  button underneath.

13) Before closing the page, click "save"  (top right).

NOTE:  Another black screen might popup, asking you if you'd like to "Create a Look". If so, dismiss this by clicking "got it thanks".
14) Visit your website and navigate to the widgets page in the dashboard. Add a text widget to your sidebar.   Then, paste in the code from Shopstyle Collective.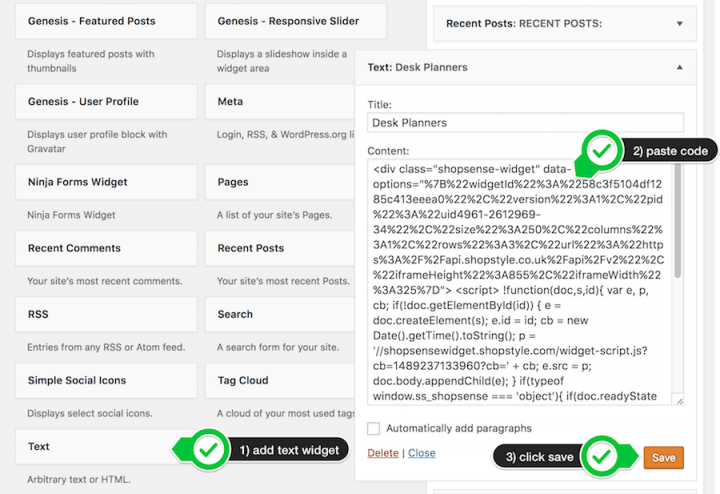 15) Click save and you're finished.   Your widget should now show-up in your sidebar!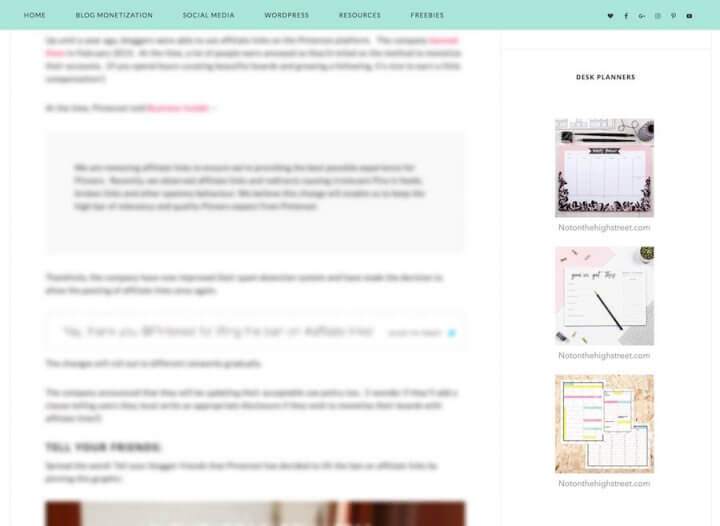 Any questions?
If you get stuck on any step (including how to find the width of your sidebar), please join my Facebook group and ask in there. Or, feel free to leave a comment below.
Did this tutorial help you?
If you found this tutorial useful, please consider sharing it with other bloggers by pinning the image below.  Thanks!