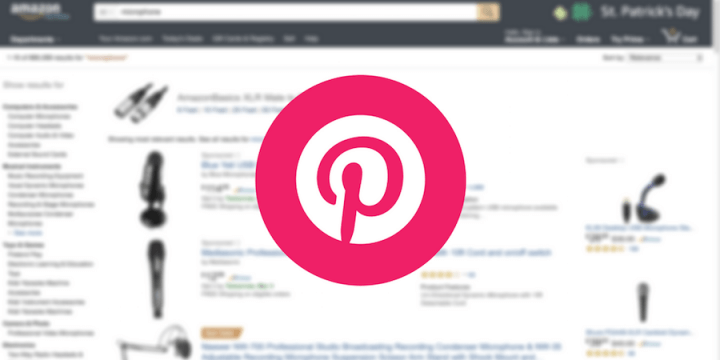 I'm a member of several popular blogging groups on Facebook and I often see members ask the following question:
Can I post Amazon affiliate links to Pinterest?
The answer:
Unclear if you use Amazon Associates USA.  I probably wouldn't risk it.
Likely yes if you use Amazon Associates UK/EU.
Keep reading below for more information & a tutorial
About six months ago, I emailed Amazon Associates in the USA.  I asked if we can post affiliate links to Pinterest.  They told me yes (see the screenshot below for more information) –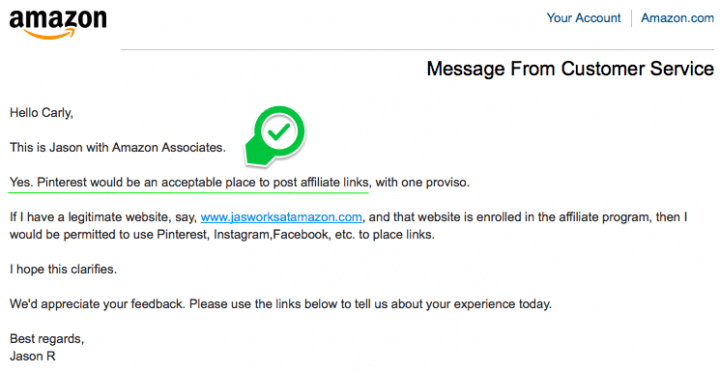 This is the response to an email I sent to the Amazon Associates team in March 2017. As you can see, Jason, an Amazon Associates rep, confirmed that you CAN use their affiliate links on Pinterest.
However, since, lots of my readers have told me they've had a very different response. In June, one reader was told that "as of right now, Amazon is not allowing links on Pinterest". In August, one was told that "Pinterest is not an approved type of social media":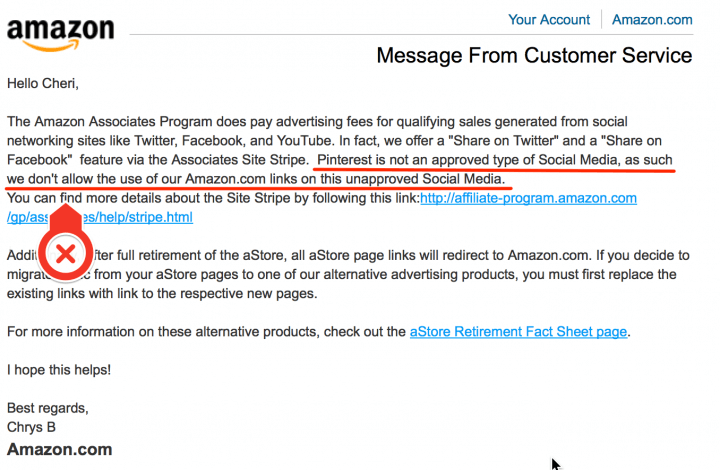 Things are vastly different for Amazon Associates in the EU and UK.  There's a page on Amazon's EU website confirming that it's OK to save links to Pinterest, plus they even have a 'how to' guide: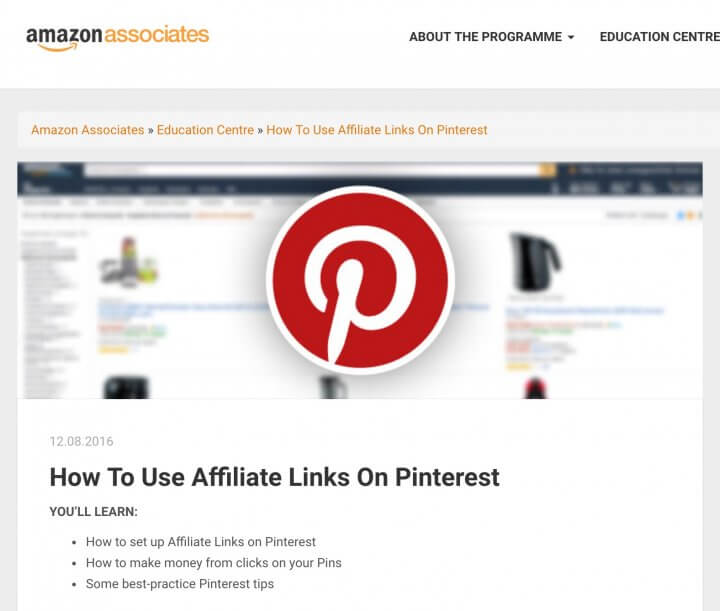 Do Pinterest allow affiliate links?
Yes, Pinterest lifted the ban on affiliate links in May 2016, so you have nothing to worry about from their end.
Disclaimer:
I've given you all of this information to help you make a decision.  It's your choice whether or not you post affiliate links to Pinterest and you do so at your own risk (whether you live in the USA, the UK, the EU or from further afield).  I don't speak for Amazon.
Ask Amazon:
I recommend that you email Amazon and ask them if it's OK to share their affiliate links on Pinterest.  Feel free to comment on this post with the response…!
Here's how to share Amazon affiliate links to Pinterest:
If you want to go ahead and use Amazon affiliate links on Pinterest, you'll need two things:  the image you'd like to pin and your Amazon affiliate link.  You can save an image directly from Amazon or use one of your own.
Visit Amazon's storefront and search for the product you'd like to promote. For this tutorial, I'm linking to the Blue Snowball Ice Microphone that I use in my videos.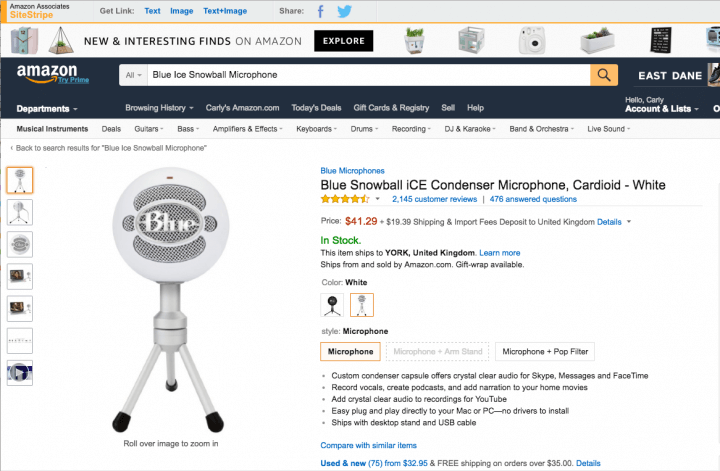 Navigate right to the top of the page to see Amazon's SiteStripe toolbar (don't see this? Make sure you're logged in to your Amazon Associates account!)

Click the   link and a popup window will appear.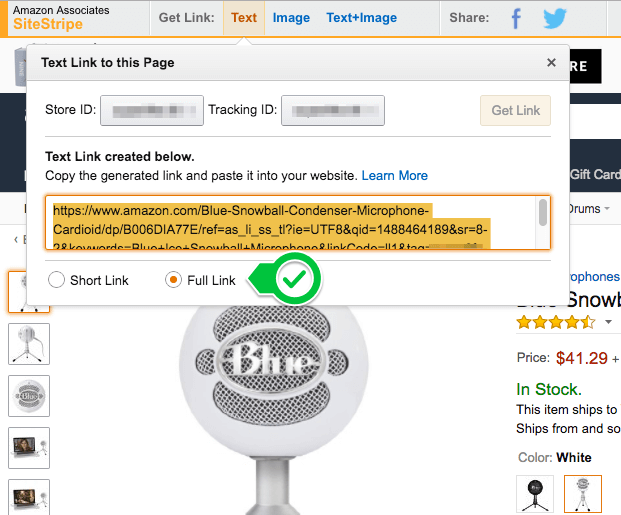 As highlighted above, make sure you select the full link option. I prefer to use full links because shortened links can sometimes get flagged as spam.
Copy the link to your clipboard and keep it handy! You're going to need it in a moment.
Next, head on over to Pinterest. Click the +  icon.  It's located on the top right of your screen:

From the drop-down menu, select upload an image.

Next, a window will pop up with the title "save from a device".  First, select your chosen image. I'm using the image of my microphone.  Then, add your Amazon affiliate link in the destination URL  box.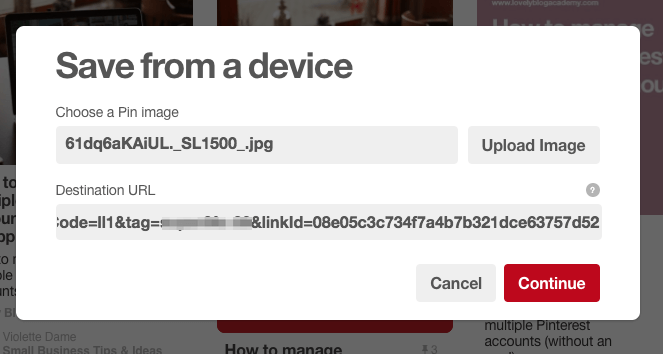 Click continue.
Then, choose a board and add a description for your pin. It's highly recommended that you add a disclosure here too. (Some countries require it by law.  Remember: the words advert, ad or sponsored are perfectly suitable, but #aff #affiliate or "affiliate link" are not.)
Click save and you're done.  You've just posted your first Amazon affiliate link to Pinterest.  Congrats!
If this tutorial helped you…
Please consider sharing it with other bloggers!  Save the Image below to Pinterest: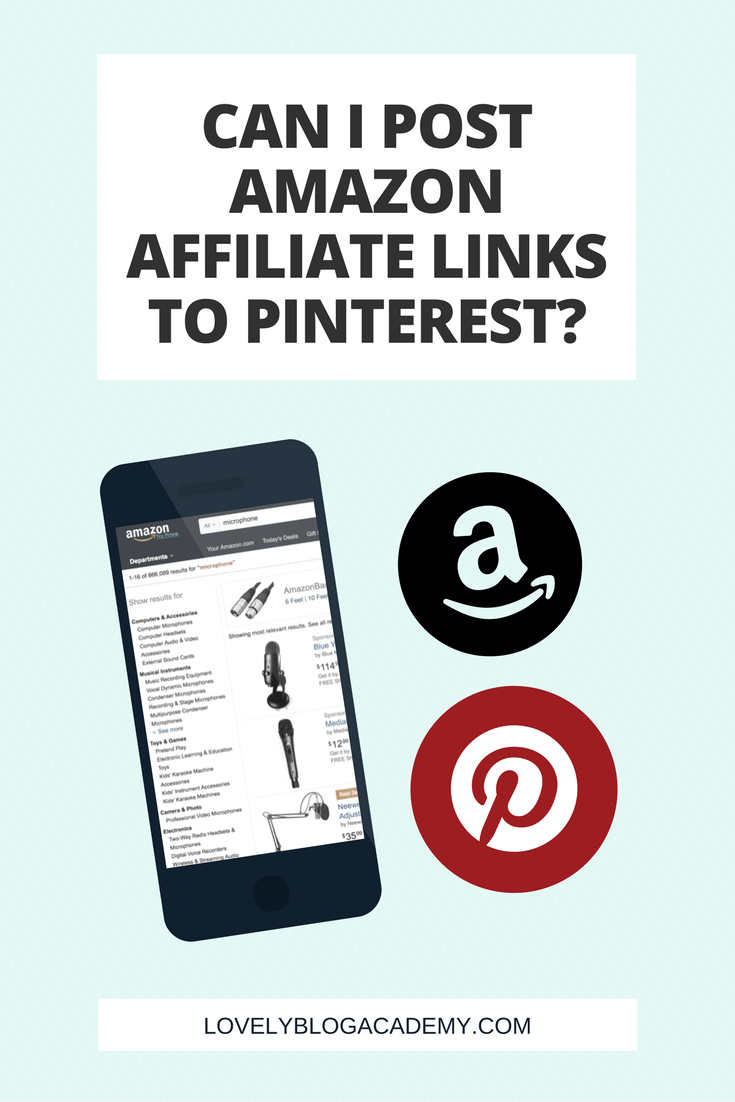 Thanks!