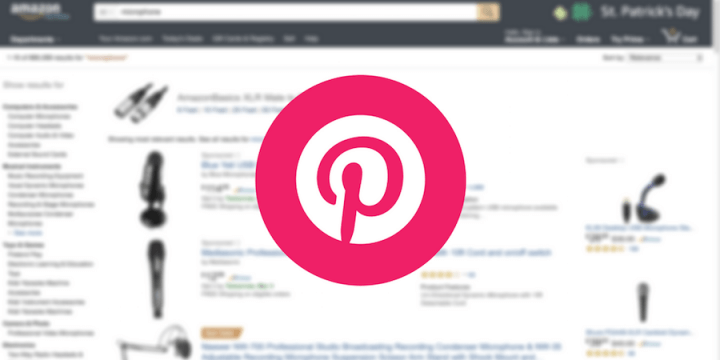 I'm a member of several popular blogging groups on Facebook and I often see members ask the following question:
Can I post Amazon affiliate links to Pinterest?
The answer is yes!
Skip down to the tutorial »
In those blogging groups, I regularly see people warn newcomers that they'll get booted from the Amazon Associates programme if they pin their affiliate links to Pinterest but this is simply untrue!
I even have an email from Amazon CONFIRMING they're happy for bloggers to post their affiliate links on Pinterest: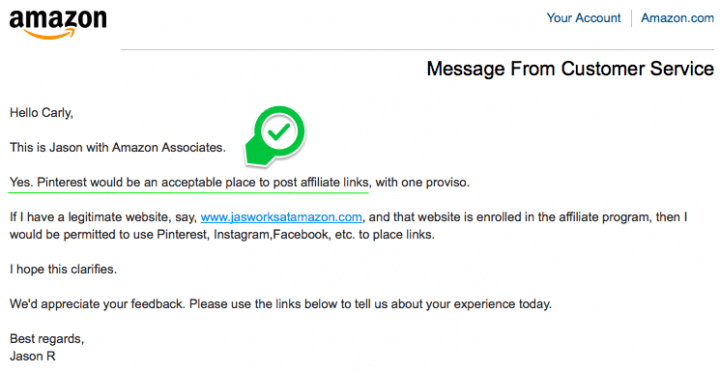 This is the response to an email I sent to the Amazon Associates team in March 2017. As you can see, Jason, an Amazon Associates rep emailed me to confirm that you CAN use their affiliate links on Pinterest.
In addition, Pinterest lifted the ban on affiliate links back in May 2016, so you have nothing to worry about from their end, either!
You CAN post Amazon affiliate links to Pinterest + here's the proof:
Click To Tweet
Note:  I've had a few people asking which Amazon programme I emailed.  I sent a contact message through my Amazon.com Associates account.
I didn't have any need to email Amazon in the UK / EU because they literally have a page on their website dedicated to using affiliate links on Pinterest with a how-to guide!
Why do people think they can't use Amazon affiliate links on Pinterest?
Amazon used to have limitations on which platforms you could post affiliate links to (years ago). I think this is what people are incorrectly referencing today. Amazon removed that rule from their Social Networking FAQ page a while back.
Here's what it used to say:
We currently accept only Facebook.com "Fan Pages," "Verified" Twitter.com pages, a YouTube "channel" or twitch.tv in the Associates program. All other social network sites are not eligible to add Associate links, or for use to create an Associates Account."
Here's what the same page says now:

"Yes – the Associates Program does pay referral fees for qualifying sales generated from social networking sites like Twitter." [source]
Here's how to share Amazon affiliate links to Pinterest:
You'll need two things:  the image you'd like to pin and your Amazon affiliate link.  You can save an image directly from Amazon or use one of your own.
Visit Amazon's storefront and search for the product you'd like to promote. For this tutorial, I'm linking to the Blue Snowball Ice Microphone that I use in my videos.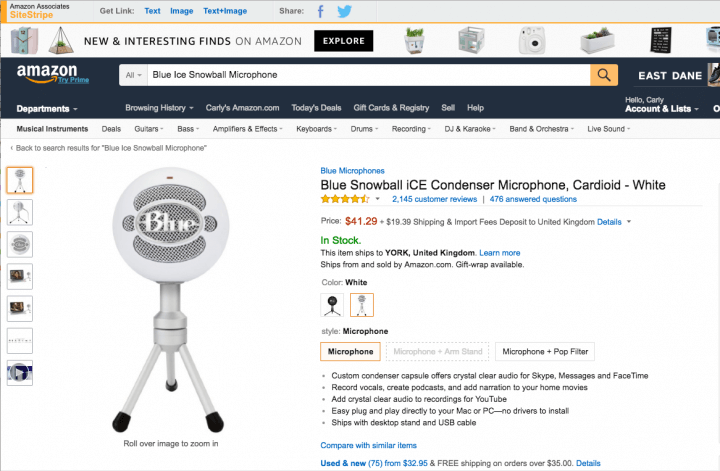 Navigate right to the top of the page to see Amazon's SiteStripe toolbar (don't see this? Make sure you're logged in to your Amazon Associates account!)

Click the "text"  link and a popup window will appear.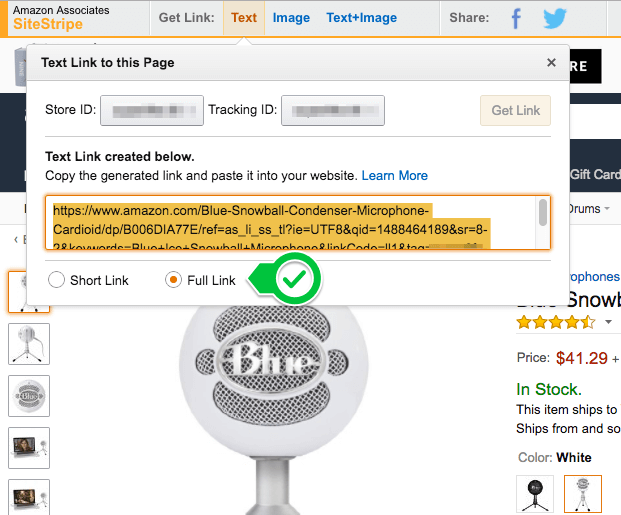 As highlighted above, make sure you select the full link  option. I prefer to use full links because shortened links can sometimes get flagged as spam.
Copy the link to your clipboard and keep it handy! You're going to need it in a moment.
Next, head on over to Pinterest. Click the +  icon.  It's located on the top right of your screen:

From the dropdown menu, select upload an image.

Next, a window will pop up with the title "save from a device".  First, select your chosen image. I'm using the image of my microphone.  Then, add your Amazon affiliate link in the destination URL  box.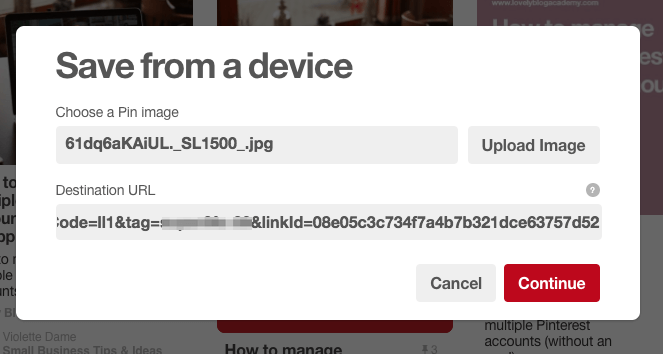 Click continue.
Then, choose a board and add a description for your pin. It's highly recommended that you add a disclosure here to. (Some countries require it by law.  Remember: the words advert, ad or sponsored are perfectly suitable, but #aff #affiliate or "affiliate link" are not.)
Click save and you're done.  You've just posted your first Amazon affiliate link to Pinterest.  Congrats!
If this tutorial helped you…
Please consider sharing it with other bloggers!  Save the Image below to Pinterest: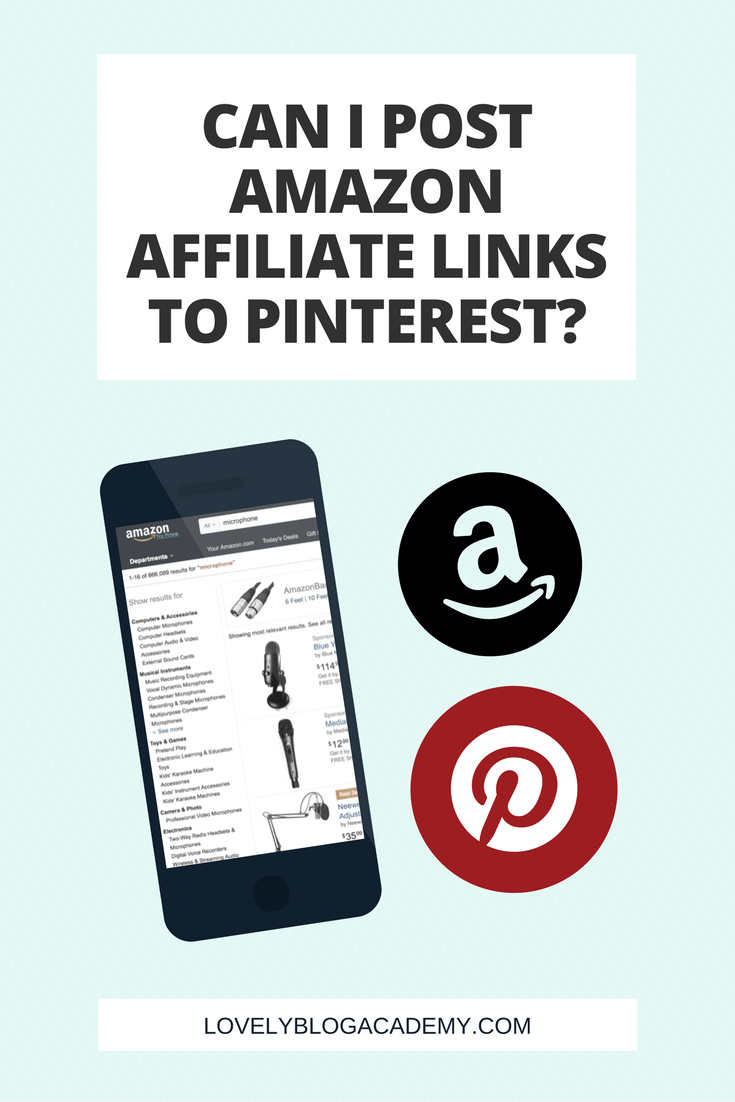 Thanks!