NOTE: IFTTT overhauled their service in 2016. Some of the photographs and instructions below are now out of date. Updating this post is on my to-do list.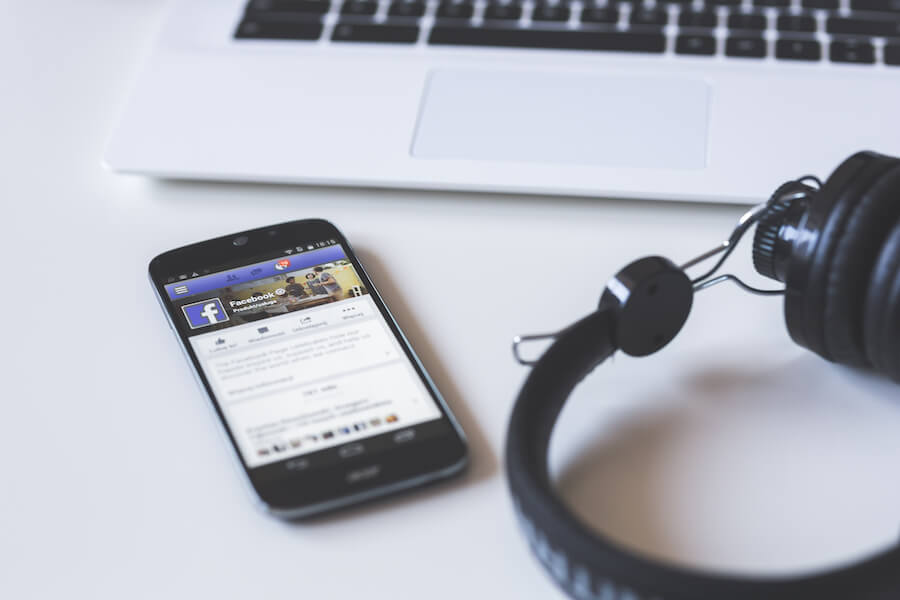 In this post, I'll teach you how to link WordPress to Facebook using a free service called IFTTT.  After following this tutorial, your new blog posts will automatically publish to your Facebook page (and/or profile) from your WordPress site.  This tutorial should take no longer than 10 minutes to complete.
PLUS: Once it's set up, you can use IFTTT to autopost to other services, including Twitter and Pinterest.
Instructions:
Already using IFTTT?
I've included an applet at the bottom of this post.
Sign up for an IFTTT account here, for free.  You'll immediately be transported to this page: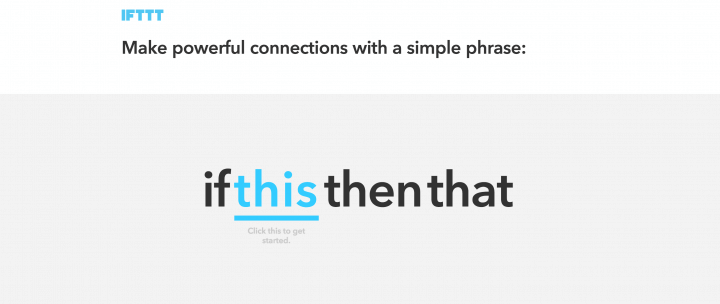 IFTTT will now take you through a mini tutorial, which will take less than a minute to complete.  It will teach you how the tool works.  Click on the word " thisto begin.
Keep clicking "continue" as you walk through the tutorial.  You'll then see a screen that says "select channels that interest you".  Pick Feed, Facebook and one more channel of your choice… perhaps Twitter?  Again, hit continue.
Now we're going to create our first "applet".  The applet will take your blog's RSS feed and post it to Facebook.   This ought to take no more than five minutes…)
First, click the  my recipes link (at the top) and then click the blue create a recipe button, as illustrated below: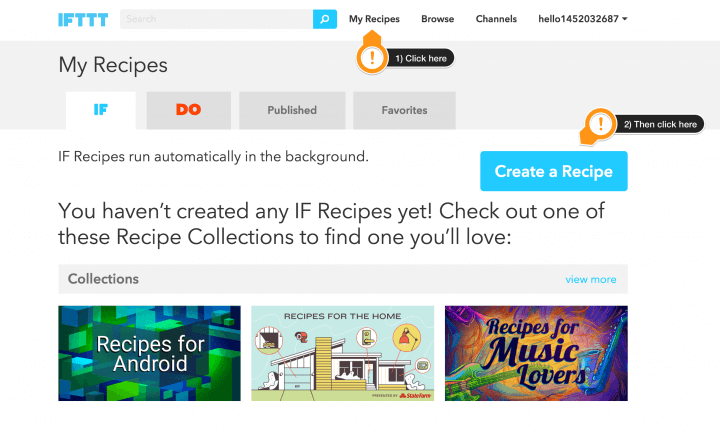 A new page will load.  Start creating the recipe by clicking the word this.  This will prompt you to select a "trigger channel".  The trigger you need to choose is RSS.  Search for it in the box, as illustrated below: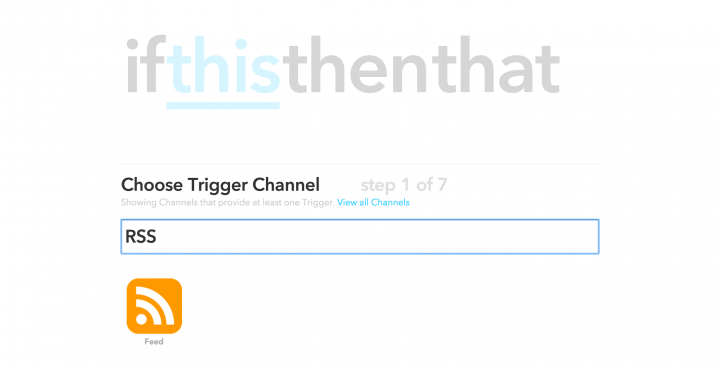 On the next screen, select new feed item.
In the box that appears, add your blog's RSS feed URL.  All WordPress blog (self-hosted and .com) have the same RSS feed URL.  Find yours by adding/feed/ to your blog's URL.  It will be either:
http://www.YOURSITE.com/feed/

  or

https://YOURSITE.wordpress.com/feed/
Now click the blue create trigger button and a new screen will appear.  First part finished, not long to go now!
Next, click on the that link and choose your "action channel" (which is Facebook).  Search for "Facebook" in the box and select the Facebook Page option.  (Select the plain Facebook option if you want to post to your personal profile).
You'll be prompted to connect the Facebook Pages Channel, which is as simple as clicking the big blue button.  It takes a second.  You simply click the button and choose the appropriate page from the dropdown box.
Hit the done  and continue  buttons.  We're very nearly finished now… only one or two minutes to go!
Next, choose create a link post option, as I've highlighted below:

Now, here's a diagram to walk you through the final step…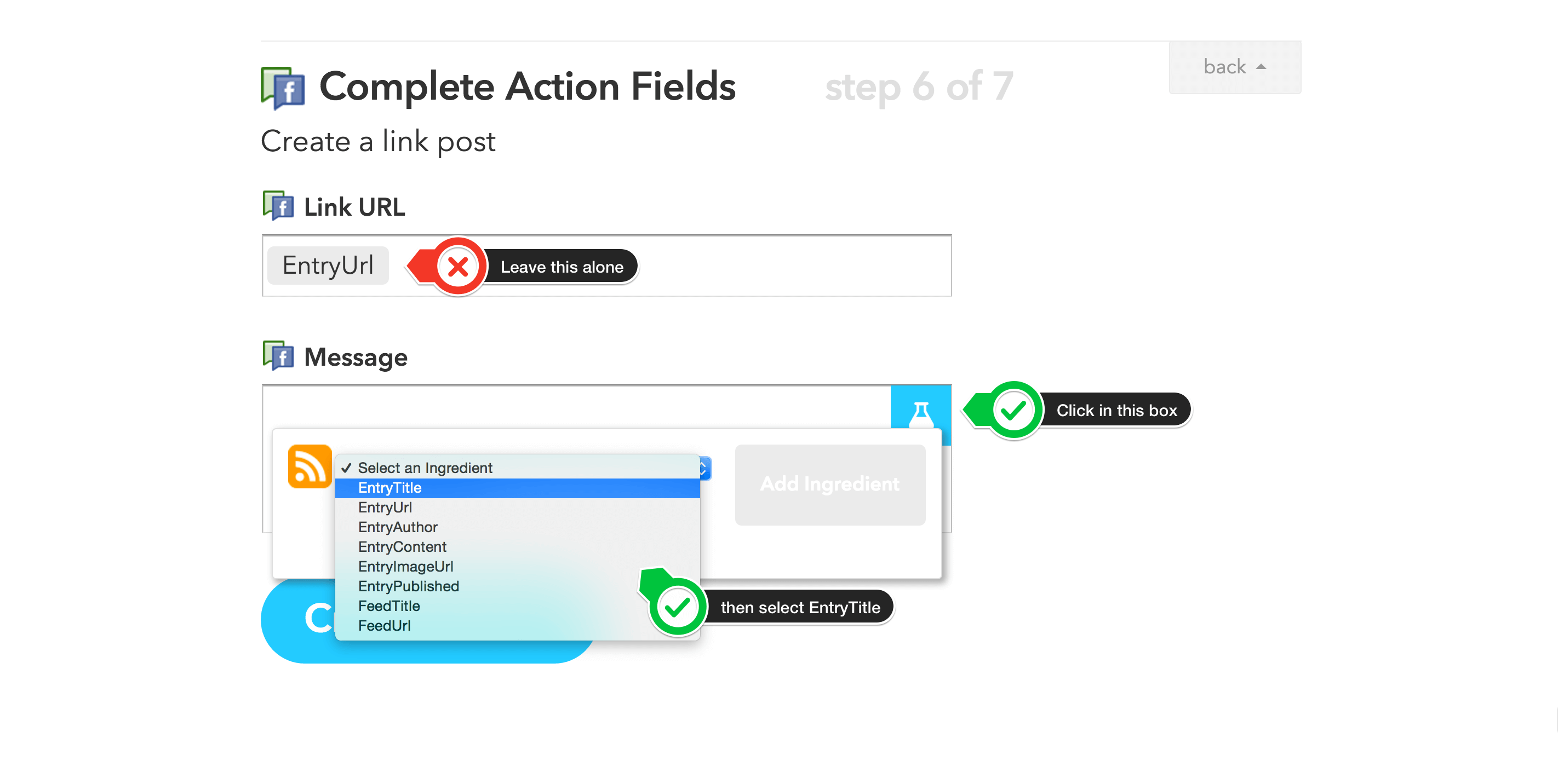 In the top "Link URL" box, don't add or remove anything.  Leave it alone!
Click in the "Message" box and a blue icon will appear in the corner of the box
Click the blue icon and a dropdown menu will appear
From the dropdown menu, select

EntryTitle

  and click

add ingredient
Finally, click the blue create action  button…. it'll ask you to confirm.  Your page should look something like this: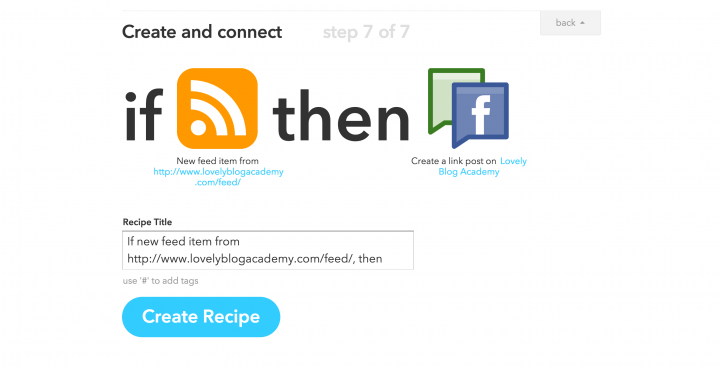 Hit that blue create recipe button and you're finished.  Yay!
That's it.  Next time you publish a blog post, it will automatically post to Facebook.
Applet:
NOTE: Remember to swap my RSS feed for yours!
Next….
Why not walkthrough the tutorial again but use Twitter instead of Facebook?
Think about exploring some of the other, pre-made recipes too!   Once you start using IFTTT you'll become hooked!  There are so many time saving and useful recipes!
Did this tutorial help you?
If so, consider saving it to Pinterest: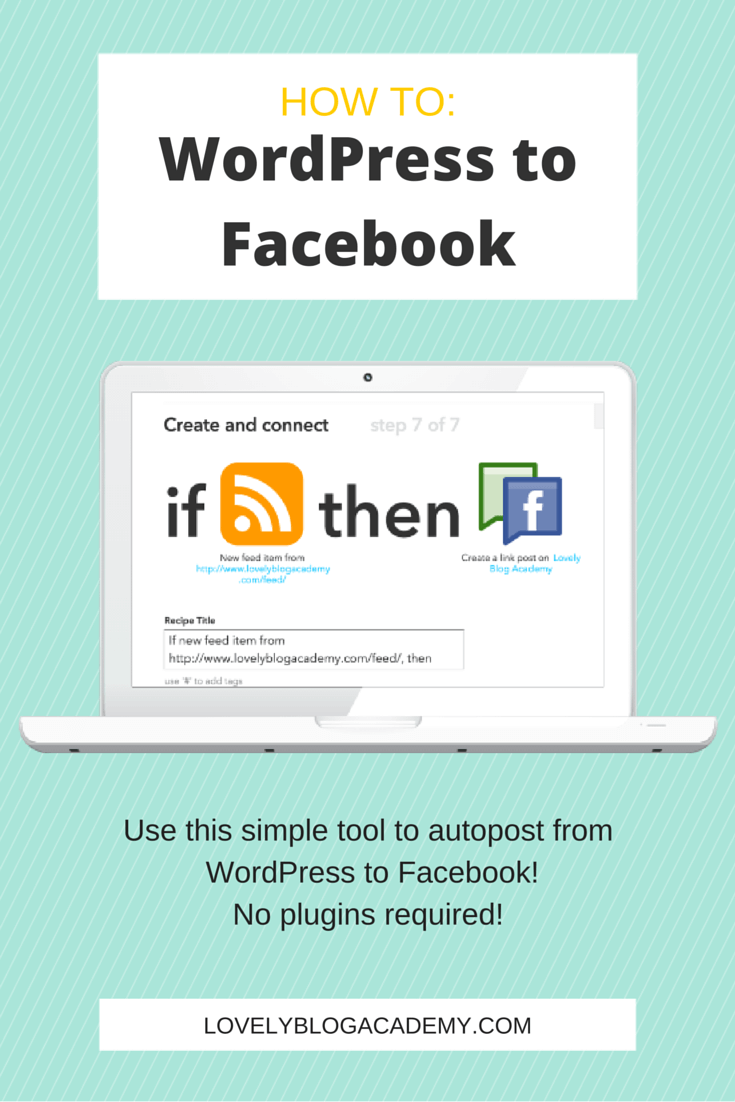 Thank you!