On Thursday 12th May, Pinterest announced they're lifting their ban on affiliate links:
We understand that businesses and bloggers need a sustainable way to keep making great content. That's why we've decided to allow affiliate links on Pinterest.

Read the full press release here.
Up until a year ago bloggers were able to use affiliate links on the Pinterest platform.   The company banned them in February 2015.  At the time, a lot of people were annoyed as they'd relied on the method to monetize their accounts.  (If you spend hours curating beautiful boards and growing a following, it's nice to earn a little compensation!)
At the time, Pinterest told Business Insider –
We are removing affiliate links to ensure we're providing the best possible experience for Pinners.  Recently, we observed affiliate links and redirects causing irrelevant Pins in feeds, broken links and other spammy behavior. We believe this change will enable us to keep the high bar of relevancy and quality Pinners expect from Pinterest.
Thankfully, the company have now improved their spam detection system and have made the decision to allow the posting of affiliate links once again.
Yay, thank you @Pinterest for lifting the ban on #affiliate links!
Click To Tweet
The changes will roll out to different networks gradually.
The company announced that they will be updating their acceptable use policy too.  (I wonder if they'll add a clause telling users they must write an appropriate disclosure if they wish to monetise their boards with affiliate links?)
Coming soon:
In due course, I'll update this page with tutorials for monetizing your blog with Pinterest.
How to monetize Pinterest with ShopStyle Collective: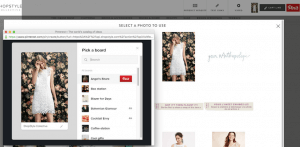 Presuming you already have a user account, visit this page and add the LinkIt bookmarklet to your browser.
Visit a retailer's website and click the bookmarklet.  Assuming they're signed up with ShopStyle Collective,  a toolbar should open up.
You'll see a large red 'Pin It" button on the top right. Click this, choose the photo you'd like to pin and pick the board you'd like to save it to.
Voila! Your photo is pinned with your ShopSense Collective affiliate link! You can also Pin from searching the ShopStyle Collective website – for thorough instructions click here.
Tell your friends:
Spread the word! Tell your blogger friends that Pinterest has decided to lift the ban on affiliate links by pinning this graphic: